SYLVANO – THE SCRIPT – MUSICAL ARTIST PRESS KIT -ENGLISH
APPROVED ARTIST BIO FOR PRESS RELEASE
After the successful first EP called this World, released in 2017, SYLVANO kept on creating new music to deliver something more personal.
"THE SCRIPT" is SYLVANO's second album. Influenced by many artists and musical genre like pop, house, disco, Hip Hop, rock which makes the beauty of music. The title of album comes from one of the song he wrote, reflecting on a sad reality, a lot of people are or just do what they've been told to do in life, what they learned at school, what the society wants them to be…but this is not always who they are and what makes their inner-self vibrate.
THE MUSIC
The new songs that will be released during the course of October, November & December is the results of month of reflections, exchanges and learnings.The tracks are more pop & mainstream oriented, while still having their roots into club & electronic dance music. Melody and vocals are still the essence of this album to bring emotion and an uplifiting mood.
THE COVER
The cover has been illustrated by Wilf Dessent, a talented street artist from Leeds. In the same spirit as "This World", Wilf a/k/a the Face Maker designed the cover based on the music. Once the piece of art finished, Wilf said " I really feel the music influenced a lot this art piece. It's has very specific vibrations coming form it, the curves and the lights, really translate the feelings of the music"
Instead of release the full album at once, the concept for this album is to create a virtual tour of releases, bringing every week a new single. I wanted this to be a weekly celebeation through a new song in a year that has been painful for a lot of people. Music is the answer to a lot of pain and if at the end of each week this makes some people happier, smiling & dance in their car, in a club or at home…it's a win. Not everyone will like it, but if I can touch just a few i'm happy.
The first album will be pressed in black with the club edit.
As mentioned previously, the first album has been sold out and shipped all around the world. From our close neighbours in the UK, Germany and France to USA, Uruguay, Chile, Australia, Japan & Taiwan. I'm happy as an artist with no expectation to think that my music travelled the world in a physical way. So building on this success, I will release a Club version of the same album as it was meant to be more "club" tracks. To differentiate the album will be black, instead of white. This will also be available at the diggers factory
Some past interviews
Lausanne FM with Philppe Morax
Couleur 3 with Jiggy Jones
Journal de Morges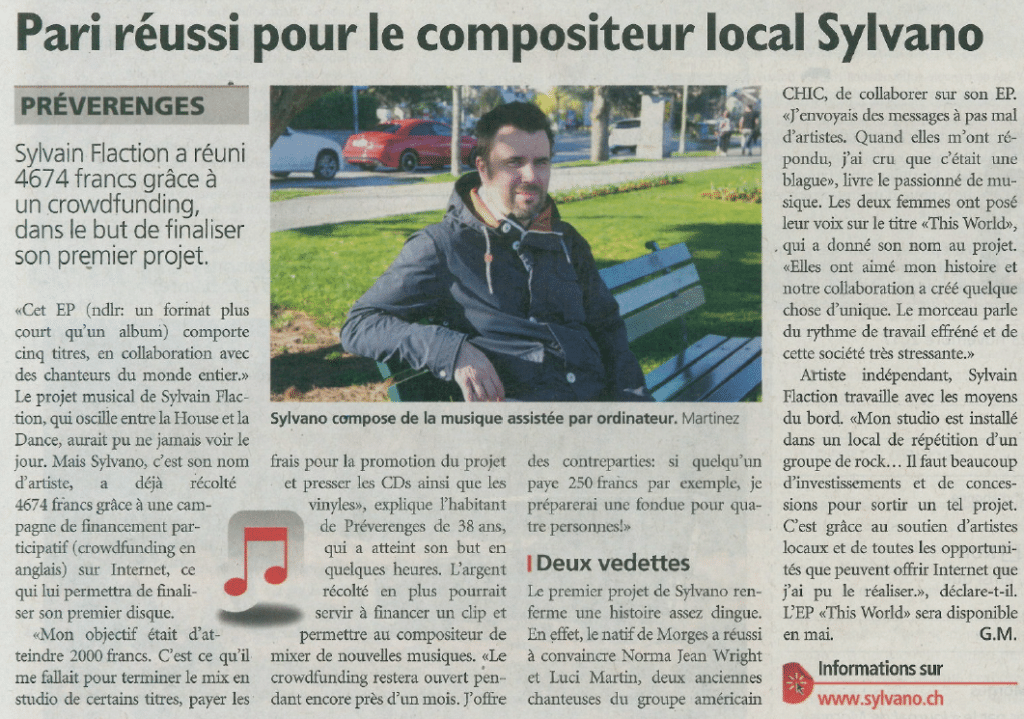 Official DJ of the athletes at Youth Olympics Games 2020
SYLVANO was the official dj of the athletes in the Olympic village at the 2020 Youth Olympic Games in Lausanne